Our Values and Ethos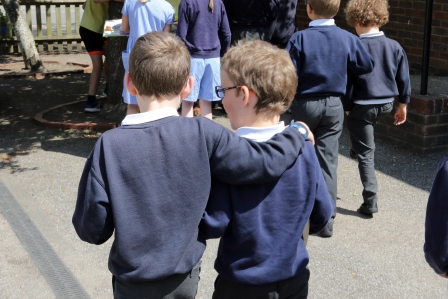 "Growing Kind and Curious Children Who Aspire to Succeed"
We are very proud of our school, our children and their successes. We believe that this small school is special and the relationships we develop with our children and their families, the staff and the governors enable us to create a friendly, caring and supportive atmosphere. We have small class sizes, our own swimming pool, before and after school care as well as a commitment to Forest School.
Our aim is: Growing Kind and Curious Children Who Aspire to Succeed
We have high expectations for our children and believe that every child should equipped for life long learning through our 7 learning values:
Confidence
Craftsmanship
Creativity
Collaboration
Curiosity
Communication
Commitment
This is based on the research by Professor Bill Lucas and Guy Claxton.
We promote three key behaviour values: Safe Kind Ready.
We value nurturing children's self-esteem, building their self-confidence and providing more opportunities to develop their physical and mental wellbeing. This has held even more importance since the pandemic. Through our 'Northchapel Way' we teach children the importance of developing into respectful citizens who are responsible and resilient.
We want every child in our Northchapel community to:
Be confident, curious, and creative. Learn to be committed, collaborate and communicate well and apply good craftsmanship in everything they do.
Be enthusiastic, responsible and independent learners who believe in themselves and aspire to be the best they can be.
Learn excellent behaviour skills; to be polite, kind and considerate at all times and live by our motto; safe, kind, ready.
Have acquired good basic skills in English, Mathematics, and Science to enable them to build upon and make connections as the foundation to all other areas of lifelong learning.
Reach their potential, through experiencing a broad, rich and balanced curriculum and learn through first hand memorable experiences.
Have good thinking skills and be able to retrieve a good level of knowledge across the curriculum. Know how to learn best with resilience and a growth mindset.
Be aware of their own physical health and mental well-being with the benefits of regular exercise, healthy eating and knowing how to lead healthy lifestyles.
Learn to win and lose graciously.
Be actively involved in our thriving school community and the wider community.
Have the ability to reflect on, respect and value cultural diversity and use it to enrich and develop an understanding of the wider world.
Develop an understanding of and respect for the natural world and their place in it through Forest School. Learn to care for their school environment and develop a sense of responsibility for a sustainable lifestyle.